Greyhound Pet Adoption MD is a non-profit, all volunteer, tax exempt organization.  Our group is committed to working with the racing community with the goal of finding homes for greyhounds when their racing careers end.  Our partnership with them for over 30 years has resulted in close to 5,000 greyhound adoptions within our group.  Our roots date back to 1985 as an adoption group.  In 1995, we became a chapter of Greyhound Pets of America, and in 2017 we decided to leave to become an independent group.  Our mission is to promote public awareness that greyhounds make excellent pets.  We are steadfast in our commitment to find responsible homes for retired racers where they can experience the joy of becoming beloved companions. We work closely with each adopter to ensure their greyhound will have a smooth transition from race track to living in a home.
ABOUT GPAMD GREYHOUNDS
Greyhounds usually range from two to five years of age. The life expectancy of ex-racers is twelve or more years. Retired racers are very intelligent, adaptable dogs who fit easily into their new home environment following a brief adjustment period. They are eager to please and respond positively to any attention given them; they become quickly attached to their new families. The majority of retired track greyhounds are quiet, clean, good-natured and gentle dogs that adapt and get along with children and with other animals. They do not require a great deal of space, and are usually quite content to curl up on a soft dog bed.
A greyhound requires about the same amount of exercise as any dog their size. They should be walked, on a leash, a moderate distance three or four times a day unless there is a fenced yard. You and the dog will develop a pattern that is satisfactory.  Greyhounds stand between 26 and 29 inches tall at the shoulder and weigh between 50 and 80 lbs. depending on sex.
TO ADOPT A GREYHOUND
Fill out an application or contact:
GREYHOUND PET ADOPTION MARYLAND, INC.
P.O. Box 42103
Baltimore, MD 21284-2103
1-800-600-8607
Fax # 1-800-600-8607 (please call first)

---
FEES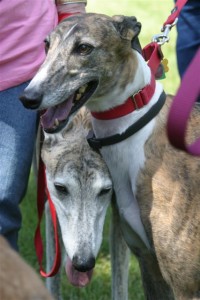 The adoption fee for Irish greyhounds is $800.  The fee typically helps defray costs such as transportation, boarding and veterinarian services.  All GPAMD greyhounds receive vaccinations, fecal check, examination, flea and tick treatment and are heart worm negative before being placed with their new owners.  All are spayed or neutered and have teeth cleaning prior to adoption.
GPA/MD provides a care booklet, nylon safety collar, six-foot lead and a dental kit.  In addition, a representative will be assigned to assist you in acclimating your new greyhound.
HOW YOU CAN HELP
 If you are unable to adopt a greyhound, please consider making a donation to help with transportation, medical and boarding costs.  Your donation is fully tax deductible and will be greatly appreciated.  Thank you for your support.
To donate by mail, please make checks payable to GPAMD, Inc.
Our mailing address is:
GPAMD, Inc.
P.O. Box 42103
Baltimore, MD 21284-2103
And remember…tell your friends about GPA!
GPAMD REPRESENTATIVES
Board of Directors


Ethel Whitehurst – President

Martha Nurenberg – Vice President

Cathy Coggins – Treasurer

Susan Hall – Secretary

Holly Phipps-Adams

Heidi Jackson

Lynn Sanetrik

Financial




GPA/Maryland is an IRS approved 501 C 3 tax exempt non-profit charitable organization. All contributions are tax deductible to the extent allowed by law. A copy of our financial information may be obtained by submitting a request in writing to: GPA/Md., Inc., P.O. Box 42103, Baltimore, Maryland 21284-2103